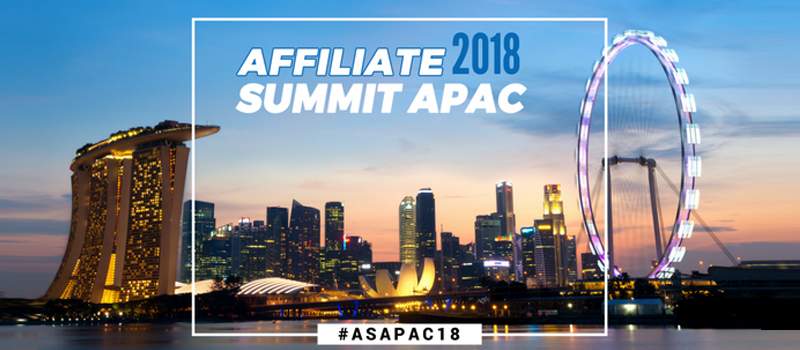 Register Now
Get Exclusive 10% Member Discount
[Use code ASAPAC10 for 10% OFF]
Guests
Karen NG
Rish Shukla
Dunia Silan
Max Ciccotosto
Ian Fernando
And many other prominent speakers.


Timings
Oct 1, 2018:- 10:00 am to 5:00 pm
Oct 2, 2018:-9:00 am to 1:00 am
Oct 3, 2018:- 8:50 am to 4:10 pm
Description
It is one of the biggest affiliate marketing events in the world and tops the event list for affiliate marketers in Asia. It is of no secret that e-commerce in Asia is worth more than $200B and attending this summit will allow one to improve the statistics and get higher performance-related revenues. It is an assembling of the best lot of affiliate marketing like publishers, content writers, business owners, bloggers, tech startups and other affiliate solutions related providers.  They will all meet at the Marina Bay Sands in Singapore for the most anticipated summit. Participants from more than 50 countries will be a part of this summit. Since most affiliate marketers are always looking to make their business better, improve its growth prospects, use better technologies, learn to drive more traffic to the blog or site and use new innovative methods to increase revenue. Since many industry experts, successful entrepreneurs, influencers and users attend the event; it only increases the possibility for better work environment and ethics.
Agenda
Learning what makes a great affiliate site
To understand what are the opportunities of being an affiliate
To learn the challenges of being an affiliate
To understand the must-have tracking tools and techniques to control the campaign
To understand and analyze the best business model in the era of e-commerce
To understand how to set up business in APAC countries like Singapore, Australia, Malaysia, Indonesia, Thailand, Vietnam
To learn to improve the tracking of affiliates
To understand Influencer marketing
Who should Attend this Event?
Affiliate marketers
Brand Merchants
Tech providers
Digital providers
Traffic sources
Digital marketers
Bloggers
Influencers
Media owners
Advertisers
What can one expect from the APAC Summit?
The APAC summit is a large congregation of knowledgeable persons and there are many things one can access as part of the summit. They are:
Exclusive content created by the Affiliate Summit APAC advisory board which broadly covers compliance, tracking, payment, and innovation. This also covers all trends, opportunities and challenges.
A two-day exhibition of all big networks and technology providers that engage and present the best advertisers and product trackers in the region at the Affiliate Summit Marketplace.
An interesting platform for affiliate marketing that functions as a handbook for influencers, bloggers, and content sites and gives them the knowledge to improve their opportunities in affiliate marketing is The Affiliate University.
The summit also has a 6-hour networking event called legendary Meet Market which is packed with all stakeholders like digital agencies, tech providers and the like. One can improve network connections, build their own contact base, understand new methods and discover new peers in their forum.
How to register?
Find below the details of the passes-
Networking: These are passes that work best for industry professionals who want basic networking with other professionals and industry experts. This is for those who want to build their contact list, increase the connections database and uplift their social ranks. The Networking Pass includes entrance, attending keynote sessions, access to PPT and networking apps.
VIP Passes: This is for industry insiders looking to connect with peers. It includes meet market, pub crawl, entrance to VIP lounge, Opening reception, Powerpoint presentations, access to networking apps and all roundtable conferences.
An e-voucher will be sent to all attendees a week prior to the event. All attendees will get exclusive badges containing the pass info that can be picked up at the stalls set up onsite during check-in hours.
Are there any free passes? How to avail them?
Free Affiliate: These are passes for industry professionals who want to connect with other professionals and receive select content that is exclusively available to only the VIP pass entries. One can get these free passes by applying before September 14, 2018, or when they sell out completely whichever is earlier. This free affiliate will receive all the benefits of the event and can get discounts on membership to technology plans and freebies.
Are there any group discounts
If you are a group of five or more, you can receive a massive discount. For a group of 5-9 people, there is up to 20% off. A group of 10 or more people can avail up to 25% off.