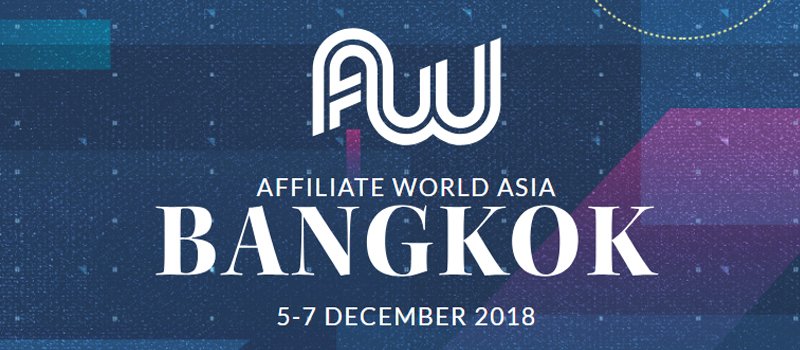 Event Location

:

Bangkok, Thailand
Timings
Day 1: 9:00 a.m. to 6:30 p.m.
Day 2: 9:00 a.m. to 6:30 p.m.
Day 3: 9:00 a.m. to 6:30 p.m.
*This does not include after-party *

Description
About the event:
This is a bi-annual conference that happens in Europe and Asia. It is the congregation of the world's largest affiliate marketing masterminds ever. In this, one gets to hone their skills, increase endeavors and learn from the best in the industry. This premier gathering of influential e-commerce and affiliate marketers will enable you to network with the brightest in the industry and absorb high-level mastermind style content. Since affiliate marketers are always looking to learn more concepts to drive traffic to improve growth prospects and increase revenue, this conference gives a platform for them. The stage is a heaven of opportunities with unrelenting opportunities for marketers and companies alike. It has become the must-attend event in the industry.
Agenda
To learn and comprehend more strategies for affiliate marketers
To learn what makes for a great affiliate site
To understand the business acumen in marketing for affiliate
To understand and learn the challenges of affiliate marketing
To stand exposed to opportunities at every level
To further your business prospects in affiliate market
To develop knowledge par excellence
Top 5 reasons to attend the conference
Networking
Meeting top quality affiliate marketers from the world
Increase knowledge spectrum
Learn innovative ideas on affiliate marketing
Get a hands-on experience with learning tools
Who should attend?
Affiliate marketers
Content creators
Digital marketers
Business and tech space owners
Startups and industry authorities
E-commerce personnel
Drop shipping people
Advertisers
Traffic sources
Super affiliates
What will one gain by attending?
One will learn Better cost-efficient ideas and solutions to complex solutions
One will be able to get more skilled in affiliate trends and marketing campaigns
Forge foreign connections and make promising deals
Lessons on lead generation and all of the affiliate world
One will learn more technology tools and eventually be able to apply it to business.
How to register and pricing
One can register online as either an affiliate or company.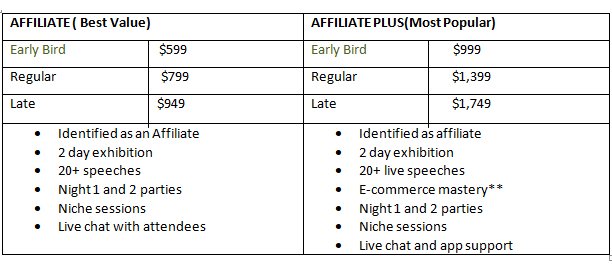 ** E-commerce Mastery Live
This is a full day training program for e-commerce experts and entrepreneurs. It gives the attendees the perfect tools and devices to make their best of the e-commerce game. It will provide advanced strategies to build a highly sustainable brand and business.
Are there any Early Bird Discounts?
Yes, if one signs up before September 30, one gets an early bird discount. You can get a lot of discount through this amazing option. One can get all the perks and features at reduced rates.
Are there any free passes?
No, this high-level conference does not give out any free passes to affiliates. If you are media personnel, one can fill an accreditation form to apply for a media pass. One can sign up to their newsletter for all information on price changes including drops, latest speakers, and discounts.
The best way to get discounts would be to use their amazing early bird offer to get entry tickets at steal deals. This is the wisest way to get the most of this premier networking conference.