Measurements are extremely important for marketing. The ROI on marketing is always an unpredictable curve and hence having solid metrics can help you improve your marketing strategy with solid data. Tracking website visitors, bounce rates, conversions and so on thereby improvising your ads can give you plenty of new customers. Tracking these could be a tedious process and here's where an affiliate marketing tool like affiliated.io is extremely important. Read on to know how it can improve your business and if it is the right tool for you.

Get Your Free Account
What is Affiliated.io?
This is a dashboard which will help webmasters track visitors, clicks, and leads as well as sales info, all in a single overview. These are for those who rely on online advertising and affiliate marketing. The affiliate dashboard that shows your income, visitors, clicks, and leads.
What are some interesting Features of Affiliated.io?
In order to be a successful affiliate, you need the right tools for yourself. When you use this wonder application affiliate.io, as an affiliate marketer, you would be excited at how it is going to drive your business through scintillating heights. And we are not exaggerating!
Firstly, you save plenty of time – So all the metrics can be obtained at one place without multiple logins and applications.
Up-to-date Statistics – You can choose to view whatever you wish to – be it visitors, sales, clicks, bounce rate applying the exciting range of filters on offer.
Track Leads – You get instant notifications when your leads turn to sales.
Customized reports – Get personalized, customized reports on a daily, weekly, monthly or yearly basis.
Works in Real-time – The app can be used across devices and is always up-to-date and in real-time. So all your information is completely reliable.
You can import affiliate sales automatically and track the commission status.
Combined with Google Analytics, get all visitors' statistics in one place
How does Affiliated.io work?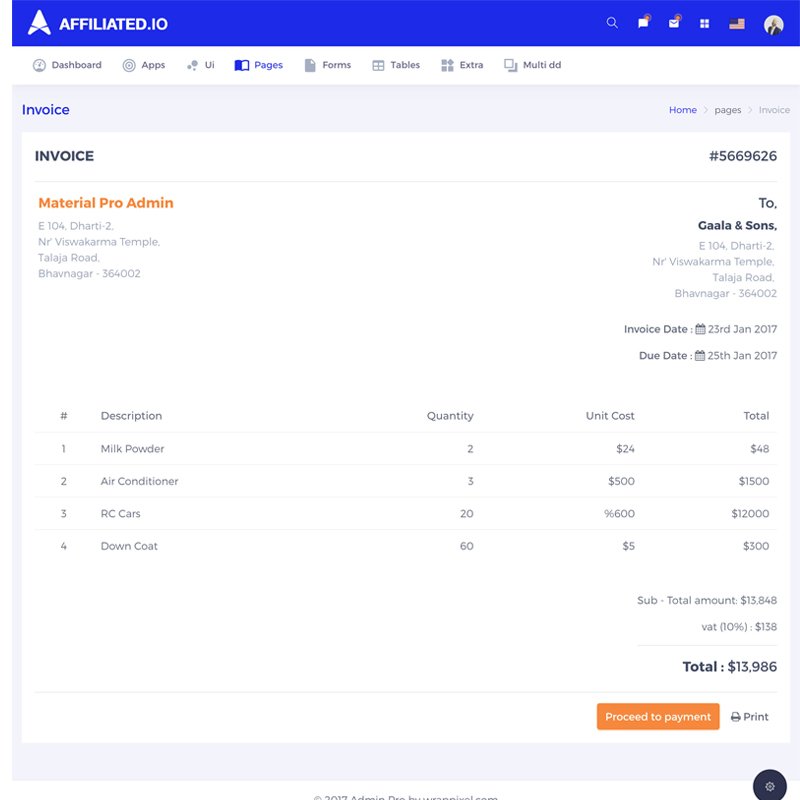 You can sign up for Free or for Early Backers Plan and an account is created. Once you have an account, you can connect to all your networks.
Once you connect to your networks, activate the websites you wish to display on your dashboard.
You can then create your own dashboard with the necessary parameters and you are good to go.
You can connect to the following networks.
View all the required statistics with the numerous filters, get customized reports and use the information to improve your marketing strategy.
Who can benefit from the Affiliated.io tool?
Individuals with a big/small website
Online businesses with a big/small website
Affiliate Marketers
The Affiliated.io Advantage
As discussed in the features, all the stats are displayed on one page. No need to shuffle between apps.
You can connect to almost all networks like ad-sense, bol.com etc.
You have packages for starters as well as big websites.
Pricing is very low and a free version is also available. You get bigger plans upon request.
You get customized reports based on the parameters you choose.
Combine all your affiliate network data with Google Analytics and get any statistic you like.
In Google Analytics you can work only with one website at a time, Affiliated.io shows the total performance of all registered websites, as a whole or in groups.
Combine other popular networks like DaisyCon, Tradedoubler, and Awin.
What Plans are Available?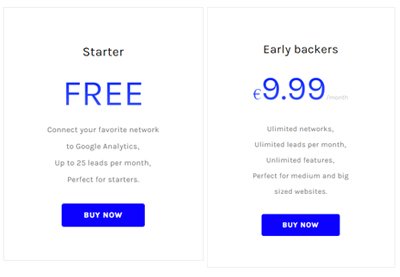 Choose Your Plan
Right now, the most popular packages include the Starter and the Early Backer package. The Starter is free with limited features like connecting to Google Analytics, 25 leads per month and is good for starters. With the Early Backer at $9.99, you get unlimited networks, leads, features and this is great for bigger sites. Upon request, you have even bigger packages.
What the Customers Say
All customers who have used Affiliated.io have good things to say about it. Many have reported it to be a great tool at a simple price where all your stats are in one place. The fact that it is a multi-device app and can integrate into different networks helping you know all about customer visits is indeed an incentive. They have been published and given positive reviews by users, affiliate blogs, and industry news websites.
Get a free Premium Account
Join the beta list and get a free premium account (worth €9.99 p/m)
Conclusion
A successful affiliate needs the right tools. And Affiliated.io is just that! With statistics being extremely important for affiliate marketing, this tool helps display all required statistics at one place and helps improve your marketing campaign. With Affiliated.io, create your own affiliate sales funnel and get to enjoy back-end profits from all your efforts.