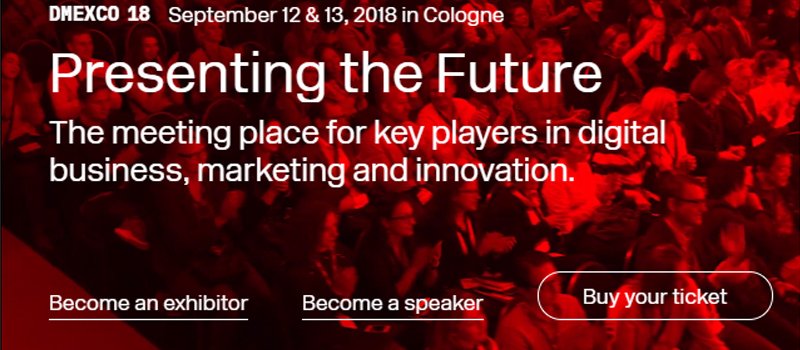 Event Location

:

 Koelnmesse, Cologne, Germany
Motto: Take C.A.R.E.
Speakers
Moran Cerf, Prof at Kellogg School of Management
Rus Yusupov, CEO and Co-founder HQTrivia
Kim Kadlec, Global marketing, VISA
Jim Egan, CEO, BBC Global News
Moon Ribas, Cyborg
Description
About the event: Digital Marketing Expo and Conference 2018(DMEXCO) is a confluence and meeting place for important stakeholder and players in the digital community like businessmen, digital marketers, and top leaders. The platform brings together marketing industry leaders, media professionals and technology pioneers to fulfill a digital agenda. It offers a business ecosystem to engage, develop, convolute and come up with new digital ideas. It offers an environment where debates, conferences, seminars, and business expositions are held by informed global and local industry leaders.  We already know how important digitalization is as it seeps into business and even life. There have been data scandals, Election manipulations, rigging poll results, job losses in the age and all this have fuelled the need for a change in the digital economy. The DMEXCO seeks to deliver changes and set examples for how such systems and processes should be dealt with. They want to deliver new strategies that will cater to the user's needs. Thus, the motto is to Take C.A.R.E. that is Curiosity, Action, Responsibility, and Experience. The event comprises two events primarily- EXPO and CONFERENCE. Let us see the premises.
EXPO
This is a congregation of market leaders, newcomers, and global players in more than 35 categories which presents all sides of digital marketing. The expo is a world-class experience with the
Agency Lounge: Advertising agencies of international repute
Start-up Village: An upcoming generation of entrepreneurs
Exhibitions: All dimensions of digital marketing
Top 5 reasons to attend the DMEXCO Expo
Expand your business: DMEXCO is the center point for training and networking where one will gain the necessary contacts to meet all important service providers and understand digital trends and potentials.
Test and experience Products: Attendees can meet more than 1100 exhibitors from various industries to present their services and innovations
Meet Industry Leaders: This is a networking haven as there are more than 40,000 decision makers from around the world.
An inspiring range of topics: There is an interesting range of topics in media, marketing and technology and offers a lot of inspiration to attendees.
More than an expo: As it is an expo and a conference, it is a world-class program that will inculcate best practices.
Conference
It aims to present the future through addressing many aspects of digital marketing. Some important aspects of the conference-
Congress Stage: This is the heart of the conference and has the leading minds of the industry involve developing trends, discussing innovations and ideas.
Debate stage: Intuitive and passionate discussions on the digital economy
Experience Stage: Many visionaries and pioneers come together to provide deep insights into innovations in the digitally connected world. Here one experiences the vastness of the digital economy.
Motion stage: This showcases the future of video marketing and motion pictures in focus
Startup Village: This is a meeting of the upcoming generation of entrepreneurs
Speakers' Forum: Lecture talks on digital marketing
Top 5 Reasons to attend the Conference
Gain inspiration from innovative experts to broaden the horizon and provide a new impetus on the industry.
Continue Education through a 100 seminars and design own unique development plan
Experience Innovation about the industry on a live stage
Discover trends in the various stages and levels to understand the market better
Understand technology and gain an in-depth knowledge into future tech creations.
Agenda
To bring together the business minds in digital marketing
To draw the roadmap of the future in digital marketing
To estimate the trends in the digital marketing
To develop action plans with responsibility in digital networking
To understand how diverse the business environment is and how to cope with it
To encourage young curious minds to innovate for community
To understand the opportunities in digital marketing
To learn and improve site estimates and more imprints
To increase the digital footprint of small businesses
Who should attend this Event?
Entrepreneurs
Digital Marketers
Social media marketers
Media companies
Tech providers
Bloggers
Advertisers
Brand merchants
Affiliate marketers
How to Register And Pricing
One has to register on the official DMEXCO site. There are various options available for the type of tickets.
Trade Visitor Ticket: Valid for both expo and conference: Price €99
Student Ticket: Only valid on presentation of an official student card, can gain access to the expo and conference: Price €29
Young Leader Ticket: Valid only for those agency employees who are younger than 25 years . They can visit the expo and conference: Price €69
DMEXCO Party Ticket: For the after party where the unofficial networking happens: Price €119
Combi ticket: A standard Trade Visitor ticket valid for both the expo and conference. Also, one has access to the DMEXCO Party. Price €179
** Important Points**
A DMEXCO ticket is not transferable
A trade visitor/student/ young leader ticket is not valid for the party
Are there any Free Passes
Yes, apart from the regular tickets one can get free tickets. The free tickets are available for BVDW members (German Federal Association of Digital Economy). The management team also noted that target groups like young leaders or rising CMO's would also receive special tickets.
Are there any Group Discounts
No, they do not offer any group discounts. Since it is a business focused event, entrepreneurs can choose to be exhibitors if looking for networking. For students and groups, there are no discounts.