Google and its services have evolved as the soul of modern technology in the past few decades. The Google workspace formerly known as 'G-suite' is a wonderful toolset to connect, create and collaborate with teams of any organization from anywhere and anytime. Now with the advent of affiliate marketing Google workspace affiliate program formerly known as gsuite affiliate program gained a lot of popularity among young bloggers and website owners to generate incredible revenue through lucrative commission rates.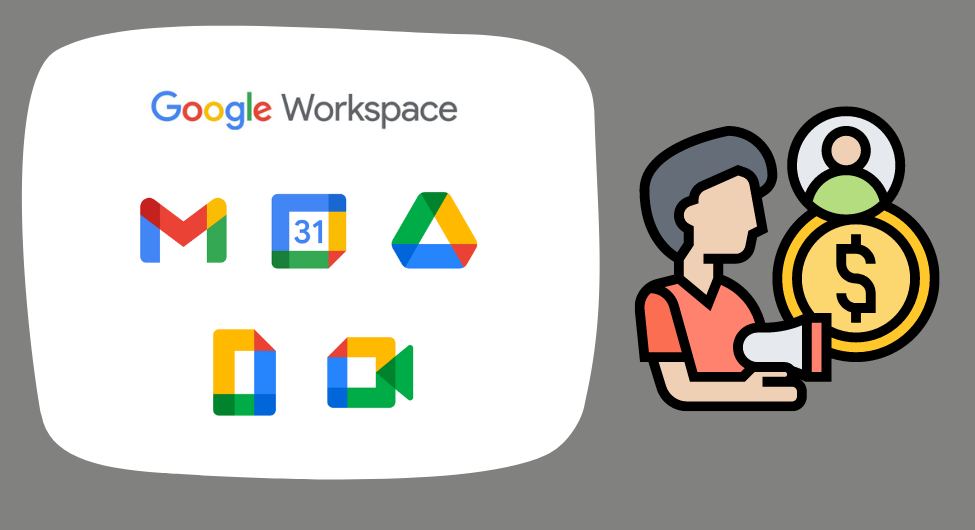 In this article, we will make a summarized Google Workspace affiliate program review and try to cover all the given major points to help you develop a better understanding of this program.
Table of Contents
Does Google have an affiliate program?
Google has some important affiliate programs that are liked by people. One is the Google AdSense affiliate program and the other is the Google workspace affiliate program. Here we will talk about the Google workspace affiliate program. Currently, the Google workspace affiliate program can be joined through the CJ affiliate network.
Google workspace US affiliate program
Google workspace UK affiliate program
What is the Google workspace affiliate program?
Google has a lot of software in its workspace toolsets such as Gmail, Gmeet, Google Drive, etc. and the affiliates can easily earn money by promoting those google software on their websites or blogs. When you get approved for the affiliate program then Google provides you with a library of banners along with a unique link that you will place on your website for promotional purposes.
The Google products that you can promote after joining the Google workspace affiliate program are listed below.
Gmail Business Email
Google Drive
Google Meet
Google sheets, docs, and slides
Google calendar
Jamboard
Forms
Why should you join the Google Workspace program?
Google workspace affiliate program is an excellent chance to generate a high amount of revenue as millions of people around the world use Google products and that's why it has become a trustworthy name in the technology industry. The other strong reasons to join this program are given below.
A diverse range of products to promote
Lucrative commission rates
Simple application process
No strict website traffic requirements
What about the Google Workspace affiliate program commission rate?
If we talk about the commission rates of this program they are quite impressive and vary as per the product categories. We have analyzed and mentioned some of the categories below along with the respective Commission rates.
The most important thing for the affiliates would be the Google commission rates. Google has partitioned the commission rates into three plans with different rates and there is no monthly or annual limit on the number of referred users.
Business starter plan
This is the most basic and simple plan where you would get $9 per user for every successful conversion.
Business Standard
This plan is best for freelancers willing to get some extra. In this plan, you will get $18 per user for every successful conversion.
Business Plus
This plan is for busy freelancers and influencers who have a huge lot of targeted audience. This plan will give you an amazing $27 per user for every successful conversion.
Cookie length: 30 Days
Conditions to become a Google workspace affiliate?
There are a few conditions that need to be fulfilled to get clear and quick approval for the affiliate program from Google. Some of them are mentioned below.
The specific requirements or conditions to join the affiliate program are given below.
The website or blog must have consistent traffic and an audience that is interested in the promoted products.
Unique, fresh, and engaging content on the website is a mandatory requirement.
The design of the website must be pleasant and appealing as per the brand value of Google.
How to become an Amazon associate?
The process to become a Google workspace affiliate is hassle-free and simple that takes only a few minutes to complete the application process.
Visit the CJ affiliate networks' official Google workspace affiliate page.
Enter all the required personal details and the website information.
After the final submission, just be patient and Wait for approval.
After getting the notification mail you will be provided with the credentials to access your affiliate area along with access to the affiliate links and banners.
Typically Google would take a few days to approve the application but sometime it would take 3 – 4 weeks for the approval process.
Conclusion
The Final verdict about the Google Workspace affiliate program is that if you have a website with decent traffic and fresh unique content that can allure thousands of audience or followers, then you should join this program and easily cash in this opportunity to generate awesome revenue in the form of lucrative commissions for the incredible software products and tools of Google workspace.