Do you have a WordPress site and are on the lookout for migrating your site?? Is your site always down or showing the 500 error and the customer care for your hosting site takes ages to rectify your issues?? A lot of people face these issues when their site starts growing or as if the host is not up to date. We have the answer for all your woes with the perfect hosting partner in "KINSTA." It's a premium managed Google Cloud Platform hosting company.
Click to get Discount
Kinsta was founded back in 2013 with a vision to become the best hosting platform in the world. Their team consists of experienced WordPress developers whose vision is to give their customers speed, security, and stability. Kinsta was one of the first hosting websites to use Google Cloud Platform, which makes your site if you choose to host with Kinsta to be using the same hardware which Google uses themselves. They are fast, dependable and use cutting edge technology to keep you ahead with the help of their team who are pros in WordPress. It also offers WooCommerce and Enterprise support.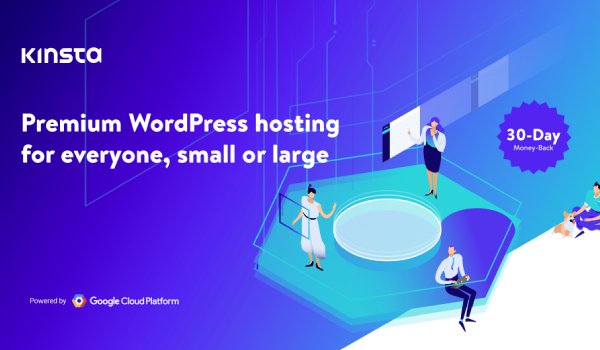 Managed WordPress Hosting
Let's have a look at some of the features provided by Kinsta,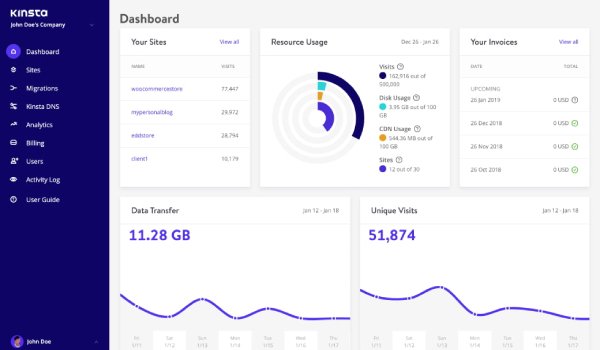 Check the Kinsta Features
Speed: Kinsta uses state of the art technology like Nginx, PHP 7, LXD software containers and MariaDB to make sure its customers get blazing speed which helps your websites load faster.
High-Security Network: Kinsta monitors your websites 24*7, which ensures your site would not have any issues or downtime. It takes measure to stop attacks and malicious intent by continuous monitoring for uptime, DDoS attack detection, software-based restrictions, SSL support, and hardware firewalls. It also automatically creates 2 weeks of backups for an emergency which be instantly accessed through the MyKinsta dashboard.
Google cloud platform: Kinsta was one of the first web hosting sites to use Google cloud platform. Kinsta uses the premium tier network which is designed to minimize distance and hops, which gives you fast and secure data transfer. You can also choose to use any of their 19 global data centers.
Next-generation infrastructure: Kinsta uses LXD managed hosts orchestrated LXC software for each site. It used software like Linux, Nginx, PHP, and MySQL.
Free site migrations: You don't have to worry while moving your site on Kinsta, by just filling up the migration format the MyKinsta dashboard the migration team will take care of everything. They will also check your site before it goes live.
Regular uptime checks: Kinsta checks the status of all websites they host every 2 minutes. Due to their regular checking, their reaction time is quick and is solved before it affects the visitors.
Backups: Kinsta backups your sites at least once every day, so in case your site is lost by just a click of a button you can reinstate your site. They also offer backup of staging platform so that any new development being tested is safe too. They offer additional backup facility at an extra cost.
Scales as needed: As they use Google Cloud platform your site will scale up to your needs and would never have to face downtime due to traffic.
Free hack fix: Their security won't let hacks happen as they constantly monitor the network any suspicious activity is investigated and dealt with immediately. In case your site is hacked they will fix it for you immediately.
Pricing and Plans:

Choose Your Plan
Plans range from $30/month to $900/month, scaling in size and features like the monthly price increases.
Starter Plan: At $30/month you get,
1 WordPress install
20,000 visits
5 GB disk space
Free SSL & CDN
Free unlimited migrations from specific hosts.
30-day money back
Pro Plan: At $60/month you get,
2 WordPress installs
40,000 visits
10 GB disk space
Free SSL & CDN
Free white-glove migrations
Site cloning
Multisite support
PHP workers per site (2)
BUSINESS 1 Plan: At $100/month you get,
5 WordPress installs
100,000 visits
15 GB disk space
Free SSL & CDN
Free white-glove migration
Multisite support
PHP workers per site (4)
Site cloning
BUSINESS 2 Plan: At $200/month you get,
10 WordPress installs
250,000 visits
20 GB disk space
Free SSL & CDN
Free white-glove migration (2)
Multisite support
PHP workers per site (4)
Site cloning
Similarly, they have BUSINESS 3 at $300/month with 20 WordPress installs 400,000 visits, and 30 GB disk space.
BUSINESS 4 at $400/month with 40 WordPress installs,600,000 visits, and 40 GB disk space.
ENTERPRISE 1 Plan: At $600/ month you get,
60 WordPress installs
1,000,000 visits
80 GB disk space
Free SSL&CDN
Free white-glove migrations (5)
Multisite support
PHP workers per site (8)
Site cloning
ENTERPRISE 2 plan: At $900/month you get,
80 WordPress installs
1,500,000 visits
120 GB disk space
Free SSL&CDN
Free white-glove migrations (5)
Multisite support
PHP workers per site (10)
Site cloning
Similarly, two more plans of ENTERPRISE 3 at $1,200/month you get 120 WordPress installs, 2,000,000 visits, 150 GB disk space and Free SSL&CDN.
ENTERPRISE 4 at $1,500/month you get 150 WordPress installs, 3,000,000 visits, 200 GB disk space, and Free SSL&CDN CDN.
Offers and Coupon Codes:
Kinsta doesn't offer any offers and coupon codes, unlike other hosting sites. You do get 2 months of free hosting if you pay for a yearly subscription in any of their plans. For instance, with the starter plan, you can save up to $60 on a 1-year subscription.
Let's have a look at the Pros of hosting on Kinsta:
Pros
Uses Google Cloud Platform: You get the best infrastructure to host your site along with the option to choose from 19 Google cloud data centers according to the region from your sites gets traffic from. It gives you the world's largest network and also gives you at a low cost as Google Cloud Platform uses minute level increment which means you only pay for what you use. Google offers live transfers of machines so that any time a repair, patch, or software updates needs doing, the process is as seamless as possible and you need not to have to worry.
Free site migration: Once you signed up with Kinsta all you have to do is fill a form the migration format the Kinsta dashboard. The team at Kinsta will fix a time and migrate your site for you with zero downtime, they would also check your site before making it live.
Speed: With Kinsta you can be sure to get blazing speed as they use elements such as Nginx, LXD containers, PHP 7 and MariaDB to enhance the speed of work which uses secondary memory and can tackle higher loads of traffic.
High-security network: With Kinsta you won't have to worry about data theft, cyber attack or virus as your website will be monitored 24*7. Your site is scanned every 60 seconds for malware, tight software restrictions and firewalls to make sure that your site remains secure.
Backup: Kinsta takes a daily back up of your site. For your peace of mind, you can always ask for an on-demand backup at an extra cost. With just a click of a button, you can always restore your backup to a live production site or a staging site.
Automatic scaling: You don't have to worry about your site crashing with fluctuations in traffic while using Kinsta. As Kinsta is run on Google Cloud Platform that means when the Kinsta websites face a sudden spike in the traffic, the cloud will scale automatically to hold the load.
Staging site: Next time you are making changes to your website you won't have to worry about downtime. Kinsta gives your staging site on which the developer can make the changes once approved by you by a click of a button the changes will be applied to the production site.
Kinsta Dashboard: Easy to use, a user-friendly dashboard which you can use through your mobile too. Everything you need to manage at one place from customer support, accounting information, easily add WordPress sites, check for plug-in updates, take a backup, and even clear the cache, Easy navigation between staging environments and live sites, Full domain name (DNS) management and more can be done here.
Developer friendly: Kinsta is fun for all the developers with tools and software such as WP-CLI, SSH, and Git are supported and ready to go from the minute you sign up. Other than that developers also have access to premium add-ons such as Elasticsearch, Cloudflare Railgun, and Redis.
After a list of Pros there are a few negatives that they have which are:
Cons:
No Domain registration: Unlike other hosting sites, one of the major drawbacks at Kinsta is they do not register Domains. You would have to register your domain name with a third party.
No email hosting: It's always better to have everything at one place and also to have the same email address as your domain name, as it is good for business and branding. Unlike other hosting sites they do not provide this too.
WordPress plug-in restriction: Kinsta covers all the basics needs in a website but they restrict few plug-ins as they conflict with their services.
Support
Kinsta number one priority is to give fast and knowledgeable support. Their support team consists of WordPress experts and Linux engineers who are there to help the customers 24×7. No matter which part of the world you are from they will tend to your issues as soon as they can. Their team is experienced in troubleshooting, server maintenance, theme and plug-in building, and maintenance. As their team monitors the network 24×7 makes their reactions time even faster.
You can also raise a ticket through your MyKinsta dashboard with the help of live chat support. You can be assured to receive a response in five minutes.
Conclusion
If you are looking to change your hosting site Kinsta should be on top of your list. With its exceptional customer support, developer friendly tools, Fort Knox like security, a user-friendly control panel, and value for money subscription plans you won't regret migrating to Kinsta.