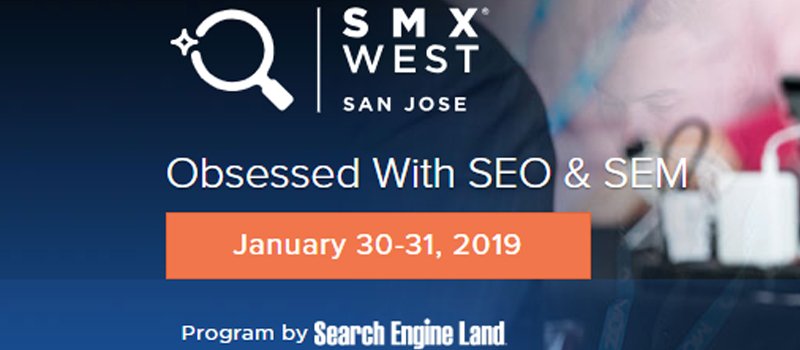 Event Location:

San Jose Convention Center
Dates: 

January 30-31, 2019

Register Now
Speakers
Benu Aggarwal, President, and Founder of Milestone
Karen Amundson, CEO and founder Apiary Digital
Dawn Anderson, International SEO consultant
Olga Andrienko, Head of Global Marketing SEMrush
And several more
Description
About the event
Search marketing is gaining prominence as a highlighted aspect of digital marketing. It is undoubtedly the most powerful form of digital marketing. With the scope of search marketing being widespread, one can learn more and thus attract more viewers. The Search Marketing Expo-SMX- is a leading conference for SEM and SEO professionals. It will help you drive amazing campaigns, learn new techniques and unleash on new endeavors. It aims to help thousands of search marketers across the world by-
Increasing sales
Boosting conversions
Maximizing awareness
And thus helping them achieve their goals.
The SMX West is redesigned and one can join the session for two days of tactic-rich, expertly led SEM and SEO sessions. One learns more intimate networking and will learn from the best leading marketing solution providers. You can thus learn high-quality content and have actionable takeaways with less time and at a lower cost.
Agenda
To deliver actionable insights to the attendees of the event
To get organic search and the rise of content marketing
To give inputs on new techniques of SEO and SMM
To give out the latest deliverables on SMM and PPC
One will receive real-time site feedback and thus can improve its ranking phenomenally
To generate content that sells and ad testing
Who should attend the Summit?
Digital marketers
Startups
Media house owners
Content marketers
SEO analysts
SMM Analysts
Ad managers
Traffic companies
Affiliate marketers
Top 5 Reasons to Attend
Listen to the best of the industry and see what they have to offer. These speeches can potentially raise your own business.
You can network with clients and get new insights of peers on tools, services, and media
One can learn and grow beyond boundaries due to knowledge enrichment
You can learn to use various technologies, tools, and new ad sites
Be able to steer growth and obtain the best ways to do that
How to Register and Pricing
One has to register online on the main site. The process is user-friendly and extremely simple.
For the Super Early Bird option, one gets maximum value. They are the best rates that one can get for the event.
All Access: $1395
All Access plus workshops: $2,195
Workshop only: $895
Networking Plus Workshop: $1099
Boot camp: $ 399
These are the prices for the Super Early Bird option which expires on Nov 17.
Are there any free passes or group discounts?
For groups or teams, they offer an amazing discount program. They offer three team ticketing packages where discounts range from 10-20% per ticket.
If you are a team of three, you can save 10%.
If you are a team of 6, you will save almost 15%
If you are a pack of 12, you get a whopping 20% off.
One has some rules to be followed through:
All registrants must be employed by the same company
You must pre-register
All members should register at the same time
It cannot be combined for other offers
Important Points to Be Considered
All packages include access to wifi, SMX event mobile app, Breakfast, lunch and refreshment breaks.
All are eligible for solutions track sessions and networking
All attendees will receive a certificate of completion
SMX West Satisfaction Guarantee
If one is not satisfied with the experience, they will give you a credit towards a future SMX event of an equal or lesser value. This will cover your registration fees. The claim must be received within 7 days of event completion.
Book Now