Ulta is one of the topmost leading chains of retail stores that has made its name selling beauty and lifestyle products in the United States. It has around 900 active stores in the United States to deliver stylish and exciting products to the people. It has a vast range of products for Men and women including makeup, skincare, hair, fragrances, etc. It has grown to a humungous level in the last couple of years with its sales recorded in billions. So if you are looking for an excellent beauty program then the Ulta affiliate program can be the best option for you to earn money.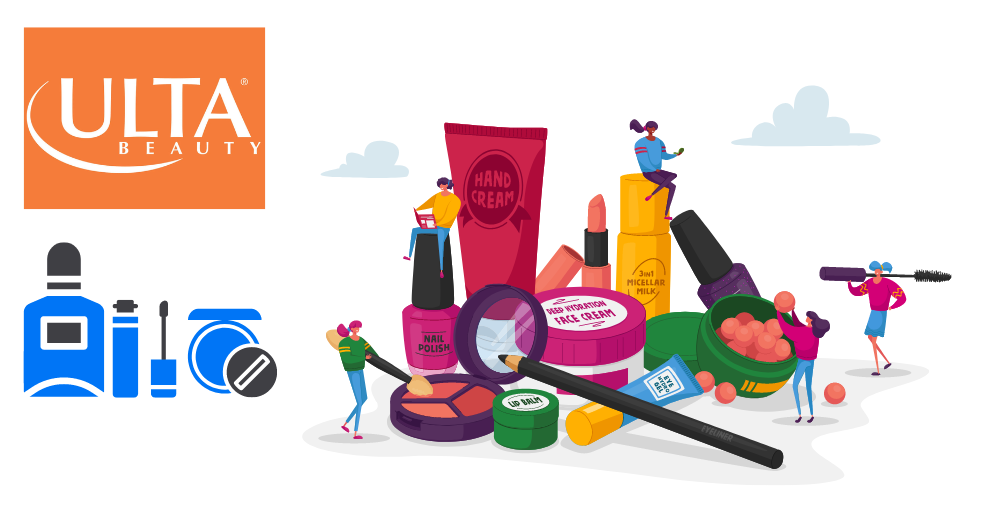 In this article, we will make an in-depth analysis of the Ulta affiliate program review and try to cover all the given crucial aspects to develop a vast understanding of this program.
Table of Contents
Does Ulta have an affiliate program?
Ulta offers a wonderful affiliate program for you to generate income through the amazing commissions on the premium beauty and wellness products on Ulta. Makeup artists, hair stylists, and marketing professionals having expertise in the beauty niche can join this affiliate program and earn an impressive amount of money without any hassles.
You can pick the below-mentioned affiliate advertising networks to join the Ulta affiliate program easily.
Ulta US Affiliate Programs
Ulta Affiliate Program US & Global
What is the Ulta Beauty affiliate program?
Ulta affiliate programs give a wonderful opportunity to bloggers and marketers who had good knowledge and interest to earn wonderful affiliate commissions by simply promoting Ulta products on their platform.
There are several products that you can pick from the Ulta store as per your suitability and can showcase them on your blog or social media platform to create a buzz about the product and boost its sales.
Some of the product categories that you can promote are mentioned below.
Makeup
The Makeup section of Ulta has outstanding products that help to enhance the overall look of a woman. The products in this category include lipsticks, highlighters, brushes, foundations, blushes, and palettes.
Hair products
This is a separate popular section in the beauty department of Ulta that features incredible products including hair conditioners, shampoos, oils, and other related items.
Skincare products
Skincare products are always in demand and Ulta has a powerful Skin care products section featuring brands from all the topmost brands. There is something for everyone by Ulta in this department. Moisturizers, face creams, face washes, cleansers, and many more things are there to promote under the affiliate program.
Fragrances
Ulta has a premium range of fragrances that can make the aroma pleasant and wonderful when you go out to your regular evening parties.
Nail care products
Last but not least are the nails that make any woman attractive and charming. Ulta has a long range of nail polishes, thinners, and nail art to give the desired beautiful look to their nails.
There is a bunch of marketing materials supplied by Ulta to promote the products on your website. It includes Banner ads, text links, and comprehensive Email auto-responders. On special occasions, Ulta also provides special retail coupons to promote the products.
Why should you join the Ulta affiliate program?
Ulta is the leading online retail store that has become a trustworthy brand in the last few years by providing extra premium quality products to customers. It has a giant collection of beauty products that are loved by Women especially. This is because they can find almost everything in this store to make them look elegant and beautiful. Also, it is doing a massive business which is evident from its 2022 sales of around $9.711 Billion and it has experienced a growth of 19% from the last year.
Other strong reasons to join this program are:
There is no application fee to join this affiliate program.
There is no fee to join the affiliate program and it is absolutely free.
Simple and easy signup process.
The offered commissions are very high on a low cost-per-sale ratio.
What about the Ulta affiliate program commission rate?
The commission rates offered by the Ulta affiliate program are completely dependent on the cost of the products and the commissions are simply calculated on the net sales and shipping after using the coupons.
Commission Rate: Up to 30%
Cookie length: 30 Days
There are multiple payment options including Paypal and pioneer and these are also dependent on the type of affiliate program you applied for.
The payout is different for each sale and it is also based on the products purchased by the customers. Usually, it pays on the 25th of every month to its affiliates and they can easily check it on their affiliate dashboard.
Requirements to join the Ulta affiliate program
The website which you are using to promote the products must be a dedicated website on this specific beauty niche.
The content of the website must be editorial and unique with useful information about the beauty products.
Ulta will evaluate and determine if your blog is engaging enough to generate decent traffic to promote its products.
Conclusion
The Final verdict that we can conclude about the Ulta affiliate program is noticeable.  If you are a makeup artist, lifestyle blogger, or hair stylist having your own website or blog with good traffic and audience, then you should definitely join this program. You can easily generate incredible revenue through the wonderful commissions offered for the promotion of all Ulta beauty products.