This is a product from Brainstorm Force and is a Beaver Builder Extension. Beaver Builder is the most popular page builder for those working with WordPress. It allows you page building with its simple drag and drop options without any necessity for knowledge of code or CSS files.


GET ULTIMATE ADD-ONS FOR BEAVER BUILDER
These Beaver Builder add-ons are available in the form of a plugin which you can install in your WordPress dashboard. For those who are looking to add some cool extensions for the Beaver Builder page building tool, this is the right place to find out more. Here we bring to your notice, all the cool add-ons for Beaver Builder on offer.
What are Some of the features and offerings from Beaver Builder add-ons?

300+ Beaver Builder Templates
They have a growing library of 300+ templates which are getting updated with new row and page templates which can be accessed from WordPress backend. The Pro version has much to offer with plenty of custom modules, ready-to-use templates, and row designs.
Professional Designs
Ultimate Addons for Beaver Builder is like having your own team of designers giving you the best output.
Drag and Drop Options
With Beaver Builder, you can control everything with just drag and drop. The ultimate beaver builder add-ons are designed in such a way as to add more utility based modules into the beaver builder plugin.
Pre-Designed Templates
Use the pre-designed page templates which can be directly inserted in your sites and go live in minutes. All templates are 100% flexible and offer advanced search functionality. You can customize the templates and choose what you need. All templates are stored in a cloud so you can install what you want.
Custom Modules
Custom modules can be placed anywhere on your page. All modules are pre-designed and pre-programmed and are in the form of row separators, menu, forms etc.
Works with Any theme
You don't have to use the Ultimate Beaver Builder Add-ons only with specific themes. Just start with whatever theme you wish to and have it installed, and it runs successfully. It integrates smoothly with any theme and works well on your site.
SEO-Friendly
The best coding practices are followed on Brainstorm and they ensure that the plugin is light-weight, fast and SEO-friendly.
Pros and Cons of Ultimate Add-Ons
Some of the Pros and Cons of the Ultimate Add-ons include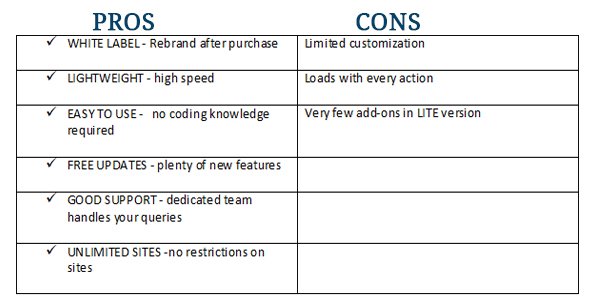 Pricing
The prices are affordable and what's more, you have a 100% money back guarantee. The one year license begins at $69/year and the lifetime license is @$249 for one time. With both the pricing plans, you get access to 45+ custom modules, 200+ row templates, 100+ page templates, template clout and white-label branding.


Verdict
The Ultimate add-ons have some amazing features which can make your website look and work the way you want. There's no need to have any knowledge of coding. The Lite and Pro versions have their share of beautiful add-ons. You can go for it because of the affordable rating.