Wayfair is a mammoth giant in the online shopping market that deals in home furnishing and home décor items. It has made a huge customer base around the world with its trendy and quality products. With its strong commitment to the customer, Wayfair has turned into a trustworthy brand with ensured quality products and wonderful online services. More than 10, 000 suppliers are working with the platform to sell their goods and items. To boost the growth more aggressively Wayfair affiliate program was launched with a goal to join hands with people as Wayfair affiliates.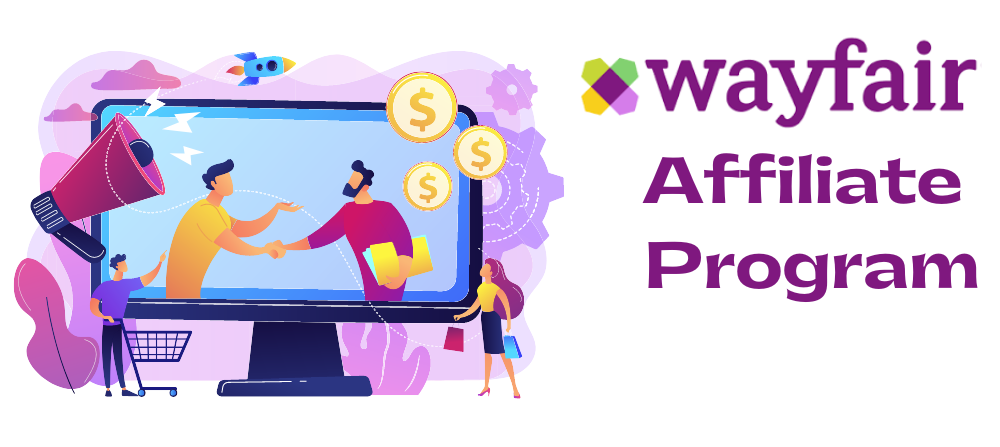 In this article we will make a summarized Wayfair affiliate program review and try to cover all the given major points to help you to develop a better understanding of this program.
Table of Contents
Does Wayfair have an affiliate program?
Most of the people who are dealing with Wayfair as customers and suppliers do not have an idea about the amazing Wayfair affiliate program. The affiliate program was initially launched on the Share A Sale Affiliate advertising network but after some time it was switched to the CJ advertising network. So if you want to join this program, then it can be done only through the CJ network.
Is the Wayfair affiliate program global?
Wayfair is a US-based Home furnishing and Décor brand that has active warehouses in the USA, UK, Germany, Canada, and Ireland. Shipping orders to other than these listed countries are not available by Wayfair and that is the main reason why the affiliates who receive website traffic from these countries only are eligible to get the commissions.
If you are an individual living in Asia pacific or other parts of Europe, then you should not consider the Wayfair affiliate program.
The list of available Wayfair online stores for different regions is:
Select the suitable networks to join the Wayfair – affiliate program for North America.
Why should you join the Wayfair affiliate program?
Wayfair is a well-renowned brand across the USA in Home decor and furnishings and it has further extended its business to some of the European countries as well. The online popularity and thousands of available high-quality trendy products are enough to predict the successful future of Wayfair along with profitable business growth. Considering this fact, you should join the this affiliate program to extract some huge benefits in the form of impressive commissions.
How much Wayfair commission you will get?
Wayfair offers you a decent commission as soon as you join the program and start promoting its products using the affiliated links and other methods. It offers a lucrative commission of up to 8% to its affiliates which is quite competitive if we compare it with other online shopping giants such as Amazon.
Also, the cookie length offered by Wayfair is pretty commendable yielding around 2% on average.
Commission: Upto 8%
Cookie length: 7 Days
You will only be qualified to get the commissions by promoting the products in US and Canadian stores.
Eligibility Conditions to become a Wayfair affiliate
You must have a website, blog, buying guide, or social media page to drive traffic to the Wayfair shopping website.
High-quality content related t home décor and furnishing is desired to convince the buyers to buy something from the Wayfair store.
Your website must have incoming website traffic from the US, UK, Germany, Canada, and Ireland.
Promotion Rules for the affiliate program
You cannot directly link the products from the ads but in that case, you should first link the ads to your website and then further to the product listings.
Email marketing is allowed but the emails must not be sent on behalf of Wayfair.
Also while working out with this affiliate program, you would not be able to use coupons, cashback, and promotional codes.
Comparison websites are not allowed for the promotion of Wayfair products.
You cannot use the affiliate links on Pinterest.
Conclusion
The Final Verdict about the wayFair affiliate program is that if you have decent website traffic from the recommended countries, you can join the program and easily encash this opportunity to earn good revenue in the form of Wayfair commissions.